C'VILLE CITIZEN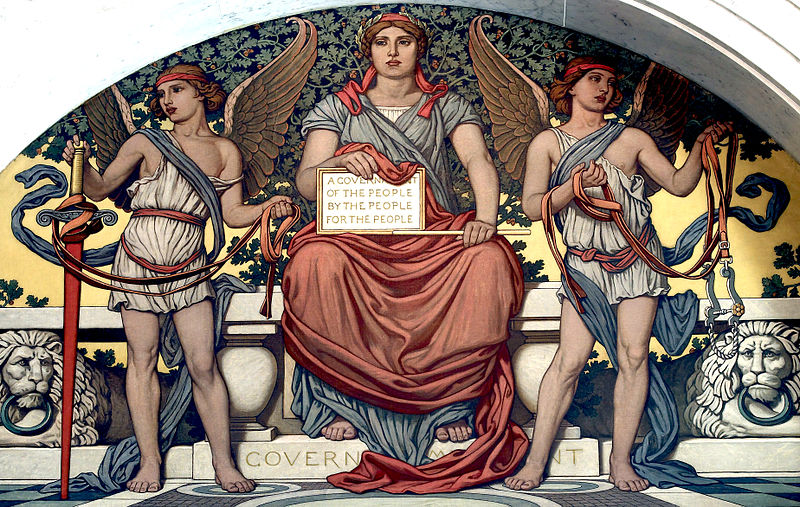 Government of the people, by the people and for the people
A Video Based Community Web News Magazine Featuring People, Events and Issues in and around Charlottesville
Editor: Bob Fenwick
AUGUST 12, 2017: THE DAY HATE AND CHAOS CAME TO CHARLOTTESVILLE
IF YOU'RE NOT OUTRAGED, YOU HAVEN'T BEEN PAYING ATTENTION!
Killed or seriously injured:
Heather Heyer
Lt. Jay Cullen
Trooper-Pilot Berke Bates
DeAndre Harris
Tyler MacGill
Plus more than 50 other citizens injured on August 12 or August 11 at The University of Virginia. We must remember this situation is first and foremost about people, our friends and neighbors, and our city.
Pursuant to an order by Judge Glen Conrad, United States District Court, Western District, dated August 11, 2017, the City of Charlottesville was 'enjoined from revoking the plaintiff's (Jason Kessler's) permit to conduct a demonstration at Emancipation Park'. (We were ordered to allow the demonstration to take place in Emancipation Park.)
What follows are links to video I shot on August 12 starting around 10:30 AM from Court Square where the counter protesters were staging, to Market St. just in front of the park, a short clip after the event at Water St. and 2d St. and a few minutes at the intersection of Water St. and Fourth St. where the terror attack occurred. The total video is about 36 minutes, broken into 5 parts.
This entire incident was not about Freedom of Speech. It was about Public Safety.
KESSLER RALLY 1 https://youtu.be/qAcAKNBos-4
KESSLER RALLY 2 https://youtu.be/yHu82SOmXeo
KESSLER RALLY 3 https://youtu.be/K6W0QvfsaL0
KESSLER RALLY 4 https://youtu.be/mN7hJTmwQJA
KESSLER RALLY 5 https://youtu.be/DiO2ZiUPC2c
And here is a link to a Newsweek article on who is behind these white supremacy, fascist, communist and KKK rallies.
http://www.newsweek.com/leaders-charlottesvilles-alt-right-protest-all-have-ties-russian-fascist-651384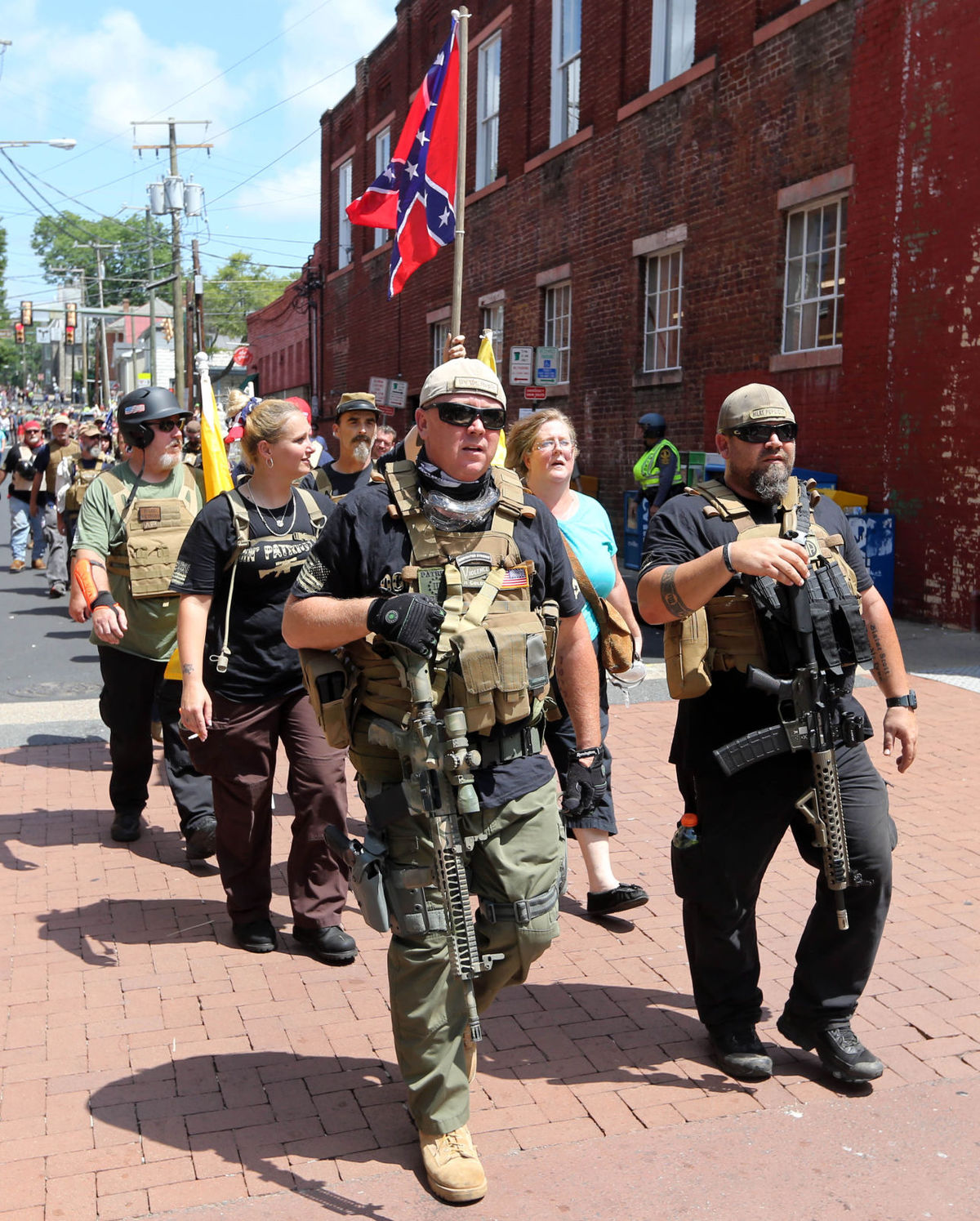 FACTS, OBSERVATIONS AND THOUGHTS
Most people in our community and around the state and country have no idea of the sinister threat that is facing us. The groups that invaded our city on August 12 are very well funded (see the Newsweek link above), have been training for years (while most of us considered them goofballs and silly), their strategy was to show up, provoke those of us who objected to an outside force threatening the people and property of our city, and wait for us to react. We reacted. When we engaged they were ready with their video cams and smart phones and recorded and edited each reaction to illustrate their innocence and our violence. They were heavily armed (but not compared to the local police, the state police or the National Guard), protected by home made shields, riot helmets, heavy boots and every 'soldier' carried a flag on a stick which became a lance upon command of their officers. They responded to military commands for advance and retreat and engagement. This event was in large part a recruiting effort and their biggest mistake was they started too soon. The invading group had agreed to come into the park at noon, that's when their 'permit' was for. They came sometime after 10. By the time I got there a little after 10:30 they had already broken through a line of clergy and were arrayed within the park and projectiles were being hurled from one side to the other.
There is more than ample evidence that Kessler's group was intent on inflicting physical violence from the blog posts that have been publicly posted. A comparatively mild blog string is linked below. There were even overt threats against public and private property ('we're going to burn the city down') most of which I dismissed as mere bluster and BS.
'The planning was defective or non existent'. It takes about 6 weeks of planning to prepare for a situation like this. We had a previous encounter with the KKK but that was dwarfed by what was anticipated The two strongest criticisms from the KKK event were city police being too noticeable and the deployment of tear gas. We did neither this time. This time the strongest criticisms are the police should have been more visible and they should have engaged sooner (which would have resulted in the deployment of tear gas). We critiqued the KKK rally and consulted with cities around the country on what to do and how to do it. Surrounding jurisdictions, public institutions like the University Hospital, First Responders from around the state, state and federal agencies all were involved. The number of involved entities is much higher than these few just mentioned.
'The city and the police should have known the scope and intent of the threat.' This was not a straight line threat. It grew from day one and each day, almost from hour to hour and we would respond accordingly as the threat morphed as threats from Richard Spencer, David Duke, militias from across the country added to the uncertainty. By their nature these quasi military outfits engage in political propaganda, purposefully sowing false information to thwart planning and panic and confuse citizens. They know what will push the buttons of the far Left (usually the use of police or the cost of citizen protection) and they push all of them.
The Alt Right (it's easier to use that designation than to continually list all the organizations and militias that showed up) has lawyers at the top echelons to continually seek weaknesses in municipal ordinances, constitutional arguments and media friends to spread rumors and false information.
There is a great deal of unwarranted anti police rhetoric to which the purveyors are demanding instant answers, e.g. 'the police were AWOL' - no, they were out of sight as the ACLU had been demanding, to minimize police visibility.
'When DeAndre Harris was being beaten the police stood by and did nothing.' I saw photos of the beating and did not see any police in the vicinity.
'The protesters and counter protesters should have been separated.' They were. As seen in the videos linked above, aside from the initial push into the park, and another push later the two sides were approximately 15' plus or minus apart. The Kessler group had about a quarter of the park set apart with barriers. The only time when that distance closed was when Kessler's group decided to sally forth onto the street to provoke responses to film.
'The police should have broken up the fights. They should have been on the street.' The fights were instantaneous, 30 seconds max, where the counter protesters tried to steal a flag or a lance and consisted mostly of pushing and shoving. For someone who had no history with protest marches or clashes they appeared frightening and unnerving. I have seen similar engagements at parties, schools, on the ball field, in the service. The worst I saw in the videos I shot was a shot to the head using a bike helmet as a club. It was delivered to a person who had a Nazi helmet on and was similar to a head to head tackle in football. I saw no blood or debilitating injury. If the police had been on the street Kessler's group would have simply gone to a spot that had no police not to mention they would have been surrounded by Antifa and angry citizens, not a good strategy.
'Charlottesville was asked but refused to provide security for the single Jewish synagogue in the city and had to hire a security guard at their own expense.' I know this is patently false because I was at the synagogue before and after the rally, made arrangements at the request of the daughter of one of the congregants and made sure they knew I would be a minute away throughout the day if they had concerns. Please hit this link for a more detailed explanation. CONGREGATION BETH ISRAEL SYNAGOGUE
More to come.
Monument to Robert E. Lee
Let's start with a taste of what's on the Net http://restoringthehonor.blogspot.com/2017/01/virginia-flagger-supporter-says-bob.html (no viruses, has been swept by Cville IT)
Because of the interest in the community discussion Charlottesville is having about the monument to Robert E. Lee in Lee Park in Charlottesville I have decided to publish my remarks just prior to the original vote on January 17, 2017 in which I abstained and two subsequent press conferences in which I explained my actions to the citizens of Charlottesville and my intended action at the next council meeting on February 6, 2017.
REMARKS JUST BEFORE THE ORIGINAL VOTE
I LOOK FORWARD TO THIS DISCUSSION TONIGHT, NOT JUST BY MY COLLEAGUES BUT FROM THOSE OF YOU WHO HAVE TAKEN THE TIME TO SHOW UP BECAUSE THE PATH FORWARD IS STILL UNCLEAR TO ME. BUT A FEW WORDS ON HOW I FEEL AT THIS MOMENT. THERE ARE A NUMBER OF GOOD RECOMMENDATIONS FROM THE BLUE RIBBON COMMISSION BUT I WILL FOCUS ON THE MOVEMENT OF THE STATUES. IF THERE IS ANY TIME WE NEED EDUCATION IT IS NOW. SO LET'S START WITH A FEW FACTS. THESE ARE NOT MY FACTS AND THEY ARE NOT YOUR FACTS. THEY ARE JUST PLAIN FACTS ABLE TO BE PROVEN BY HISTORICAL OR CONTEMPORARY DOCUMENTS.
Carry me back to old Virginny.
There's where this old darkey's heart am long'd to go.
There's where I labored so hard for old Massa,
Day after day in the field of yellow corn;
No place on earth do I love more sincerely
THESE ARE WORDS FONDLY RECALLING SLAVERY, A SYSTEM WHERE FAMILIES WERE SOLD OFF WHERE SONS AND DAUGHTERS WERE SOLD AWAY FROM THEIR FAMILIES, WHERE YOUNG GIRLS WERE SOLD. THIS IS THE STATE SONG EMERITUS OF VIRGINIA. IF IT WERE NOT SO OFFENSIVE IT WOULD BE LAUGHABLE.
MONTHS AGO WHEN I ATTENDED THE FIRST MEETING OF THE BLUE RIBBON COMMISSION I WAS HOPING THAT AMONG ALL THE UNCERTAIN OUTCOMES THE COMMUNITY WOULD AT LEAST BE PRESENTED FACTS AND THAT IS WHAT HAS HAPPENED. SOME OF THE FACTS WE KNEW SOME WE SHOULD HAVE KNOWN BUT DIDN'T. SOME WE JUST DIDN'T BELIEVE.
GEORGE WASHINGTON HAD SLAVES, THOMAS JEFFERSON HAD SLAVES, THOMAS JEFFERSON TOOK A YOUNG BLACK GIRL, SALLY HEMMINGS, AS A CONCUBINE AND HAD CHILDREN WITH HER. THIS IS HISTORY. THESE WILL REMAIN FACTS UNTIL THE END OF TIME AND I SAY THIS IN THE SPIRIT OF A STORY MANY IN THIS ROOM WILL REMEMBER, THE STORY OF SAUL, A MAN WHO TORTURED AND MURDERED CHRISTIANS AND WHAT HAPPENED ON HIS JOURNEY ON THE ROAD TO DAMASCUS.
ROBERT E. LEE HAD SLAVES, ROBERT E LEE FREED HIS SLAVES....BUT ONLY UNDER A COURT ORDER. HE FOUGHT TO KEEP HIS SLAVES. ROBERT E. LEE VOLUNTEERED FOR THE JOB OF COMMANDING GENERAL OF THE ARMY OF NORTHERN VIRGINIA, NOBODY FORCED HIM TO TAKE THE JOB. ROBERT E. LEE WAS NO FOOL, NO MURDEROUS THUG WHOSE ONLY THOUGHT WAS BLOOD AND DESTRUCTION. HE WAS A HIGHLY EDUCATED MAN, A TOP GRADUATE AND EVENTUAL SUPERINTENDENT OF WEST POINT. HE COULD READ AND IF I CAN READ THE HISTORICAL DOCUMENTS HE COULD READ THOSE SAME DOCUMENTS AND UNDOUBTEDLY DID. TO SAY THAT ROBERT E. LEE DIDN'T BELIEVE HIS EFFORTS AS COMMANDING GENERAL OF THE ARMY OF THE CONFEDERATE STATES HAD AS THEIR PRIMARY AIM THE PRESERVATION OF A WAY OF LIFE IN WHICH ENSLAVED HUMANS WERE THE PRIMARY ECONOMIC DRIVER IS IN ITSELF DELUSIONAL. THE CIVIL WAR WAS A WAR FOUGHT TO PRESERVE SLAVERY. THAT, TOO, IS A FACT.
SO NOW IT STARTS TO GET TANGLED UP, MORALITY WITH POLITICS, POLITICS WITH ECONOMICS, ECONOMICS WITH LEGAL PRECEDENT AND EVERYTHING STUCK ON JUST PLAIN HUMAN NATURE. WE GET TO THE PRESENT AND SOME OF THESE THOUGHTS I WILL SHARE REPRESENT FACT AND SOME JUDGMENTS ON THE PROBABILITY OF WHAT COULD HAPPEN, BECAUSE THEY HAVE YET TO PLAY OUT.
SO
MOST PEOPLE, BLACK OR WHITE, DON'T WANT TO MOVE THE STATUES OR AT THIS POINT IN TIME JUST DON'T CARE BECAUSE THEY SEE A HUGE SUM OF MONEY THAT COULD BE BETTER SPENT ELSEWHERE. THAT IS REFLECTED IN THE VOTES OF THE MEMBERS OF THE COMMISSION. BUT BECAUSE AT ITS CORE THIS DISCUSSION CONCERNS RACISM THIS WILL NOT BE A MAJORITY RULES DECISION, AT LEAST NOT FOR ME.
FURTHER
IT WILL BE VERY EXPENSIVE TO MOVE THE STATUES
AND FINALLY,
THE LAW IN VIRGINIA HAS NOT BEEN SETTLED IN THIS MATTER. I'VE HEARD WE WOULD SURELY WIN ANY LEGAL CHALLENGE BECAUSE OF WHAT HAPPENED IN DANVILLE, OR LYNCHBURG OR ALEXANDRIA. IN MY JUDGMENT THERE WILL BE A LAWSUIT WITH A PROBABLE BUT UNCERTAIN OUTCOME WHICH MEANS THE COMMUNITY WILL BE STUCK ON HOLD UNTIL WE REACH A RESOLUTION.
AFTER ALL REMEMBER THAT IT'S THE SUPREME COURT JUSTICES, APPOINTED BY THE SAME MEN WHO REFUSED TO RETIRE A SONG LIKE 'CARRY ME BACK TO 'OL VIRGINNY', WHO WILL MAKE THE DECISION ABOUT WHO CAN OR CAN NOT MOVE THE STATUES AND NOBODY CAN FORETELL WHAT THEIR DECISION WILL BE WITH ANY CERTAINTY.
SO WHAT DO WE DO NOW? MY DUTY AS AN ELECTED REPRESENTATIVE IS TO REPRESENT, IN A MANNER OF SPEAKING TO SEE WHAT WILL WORK TO MOVE OUR COMMUNITY FORWARD. WHAT ACTION CAN WE TAKE THAT CAN NOT BE PAPERED OVER WITH A DECLARATION OR A PROCLAMATION OR A PARLIAMENTARY MANEUVER....OR CAN NOT BE CHANGED OR IGNORED BY A NEW COUNCIL?
I'VE HEARD WE HAVE TO ACT NOW, IT'S URGENT. SO ON AN ISSUE THIS IMPORTANT, AN ISSUE THAT NO COMMUNITY ACROSS THE COUNTRY HAS MASTERED, FOR WHICH THERE IS NO PATH TO GUIDE OUR STEPS, WE HAVE TO RUSH?
I'VE ALSO HEARD THAT FINANCIALLY WE CAN BOTH MOVE THE STATUE AND INVEST IN OUR PEOPLE. I WOULD RESPECTFULLY ASK 'WHERE IN THIS COUNTRY HAS THAT EVER WORKED'? WE WOULD HAVE TO RAISE TAXES SUBSTANTIALLY AND WHO BEARS THE BURDEN OF TAX INCREASES? THE 2% OR THE 98%? WHO IN THIS ROOM IS READY TO BELIEVE THE PROMISES?
I'VE ALSO HEARD WE HAVE TO VOTE IN THE FACE OF UNCERTAIN AND TIME CONSUMING ROADBLOCKS BECAUSE OF ITS SYMBOLISM.
SYMBOLISM.
ENOUGH SYMBOLISM, ENOUGH OF THE DECLARATIONS, PROCLAMATIONS, GOOD INTENTIONS, WRITTEN PROMISES. WE'VE BEEN DOWN THAT ROAD BEFORE - MORE THAN ONCE. IT'S TIME TO SHOW ME THE MONEY. IF THE WORDS YOU HEAR TONITE HAVE ANY REAL MEANING THEN THEY WILL FIND THEIR WAY INTO THE CITY BUDGET. IT'S TIME TO INVEST IN OUR CITIZENS, KEEP OUR YOUNG PEOPLE OUT OF PRISON WITH DIVERSION PROGRAMS, MENTORING PROGRAMS LIKE WES HAS STARTED. OFFER TRAINING NOT JUST IN COMPUTER APPLICATIONS (APPS) BUT IN SKILLED TRADES SO YOUNG PEOPLE DON'T HAVE TO WAIT FOR AFFORDABLE HOUSING, THEY CAN BUILD THEIR OWN. INVEST IN PEOPLE NOT IN PRISONS. SIMPLY PUT STATUES CAN WAIT, PEOPLE CAN'T.
IS THAT POSSIBLE? I THINK SO BUT WE WON'T KNOW FOR SURE UNTIL WE TRY. INSTEAD OF MONEY GOING TO BUILD A SKATE PARK OVER IN MCINTIRE PARK WHICH WILL BE UNUSABLE WHEN IT RAINS OR SNOWS AND HARDLY USABLE IN THE MIDDLE OF WINTER OR LATE AT NIGHT I WILL ADVOCATE FOR BUILDING A FIELD HOUSE IN TONSLER PARK WHICH WAS IN OUR CIP TWO YEARS AGO AND GOT BUMPED OFF BY THE SKATE PARK, THE FIELD HOUSE WOULD BE A FACILITY WHICH WILL BE PACKED EVERY SINGLE NIGHT, HOT OR COLD, RAIN OR SHINE, KIDS RUNNING OFF THE ENERGY THAT KIDS HAVE AND THEY WILL BE CLOSE TO HOME. I WOULD OPEN UP ALL THE COMMUNITY CENTERS, EVERY DAY EXCEPT SUNDAY MORNING, ALL DAY, MAKE THEM TRUE COMMUNITY CENTERS. INVEST IN THE BUILDING OF A COMMUNITY THAT WE ALL SAY WE WANT BUT IS A GOAL WE HAVE YET TO REACH. YES, THERE WILL BE A COST TO THIS.
LAST YEAR, AT ONE OF THE FIRST BUDGET WORKSHOPS, I WAS PRESENTED WITH A BUDGET THAT CUT APPROPRIATIONS TO THE POOREST AMONG US BY ABOUT 13.5%, THAT'S LEGAL AID, READY KIDS, ETC. WHILE WEST MAIN ST. WAS ALLOCATED $10.5 MILLION DOLLARS OF WHICH THE CONSULTANT HAS ALREADY BEEN PAID ONE MILLION DOLLARS WITH AT LEAST ANOTHER MILLION DOLLARS TO COME, PROBABLY MUCH MORE THAN THAT. WHAT COULD WE DO FOR THE CHILDREN OF THE COMMUNITY, PRE K, K THRU 12, FOR THE ELDERLY ON FIXED INCOME WHO NEVER HAD THE OPPORTUNITY TO WORK FOR A PENSION BECAUSE THEY WORKED AS DOMESTICS OR LABORERS OR WHO BECAUSE OF AN ILLNESS OR ACCIDENT FACE EVICTION AND DON'T HAVE THE FUNDS TO DEFEND THEMSELVES IN COURT? FOR SINGLE MOTHERS WHO STRUGGLE TO FIND THE ENERGY TO EARN ENOUGH FOR FOOD OR RENT AND STILL NURTURE AND GUIDE YOUNG CHILDREN? FOR A ROBUST LOOK AT WHAT WE CAN DO ABOUT DISPROPORTIONATE MINORITY CONTACT? MAYBE A BETTER QUESTION WOULD BE WHAT HAS THE CITY GOTTEN FOR THE MILLION DOLLARS ALREADY SPENT FOR A CONSULTANT ON WEST MAIN ST.?
SO MY THOUGHTS AT THIS TIME ARE, DON'T RUSH THRU THIS, WEIGH CAREFULLY AS BEST WE CAN CONSEQUENCES OF OUR DECISIONS, RECOGNIZE THAT THERE WILL BE UNINTENDED CONSEQUENCES AND START PUTTING OUR MONEY WHERE OUR MOUTH IS.
REMARKS AT PRESS CONFERENCE JANUARY 23, 2017 (will add this later)
REMARKS AT PRESS CONFERENCE JANUARY 26, 2017
CITY BUDGET
TWO DAYS AGO, TUESDAY EVENING, A MAJORITY OF THE CITY COUNCIL SUPPORTED SEVERAL IMPORTANT INITIATIVES, INITIATIVES THAT ARE ACTUALLY NOT NEW BUT JUST HAVE NOT BEEN FUNDED. THEY'VE EITHER BEEN REFERENCED IN PROCLAMATIONS OR DECLARATIONS OR VISION STATEMENTS. THEY'VE JUST BEEN TALKED ABOUT. THIS SUPPORT INDICATES A FIRM COMMITMENT TO REBALANCING THE CITY BUDGET IN A WAY THAT ACKNOWLEDGES THE IMPORTANCE OF INVESTING IN COMMUNITY AND INDIVIDUALS. THIS WAS CRITICALLY IMPORTANT TO ME BECAUSE I DIDN'T WANT THE DISCUSSION OF THE MOVING OF THE MONUMENT OF ROBERT E LEE TO BE RESOLVED WITH A DECLARATION OR A PROCLAMATION OR EVEN A STATUTE THAT COULD BE CHANGED BY A FUTURE COUNCIL OR DELAYED BY A LEGAL CHALLENGE. THIS IS WHAT MEMBERS OF THE COMMUNITY TOLD ME OVER AND OVER....WE'VE HAD ENOUGH PROMISES. NOW WE HAVE THE OPPORTUNITY FOR REAL ACTION.
MOVING THE MONUMENT
MY PRIMARY GOAL FROM THE OUTSET WAS TO REPRESENT THE WILL OF THE CITIZENS OF CHARLOTTESVILLE PARTICULARLY THOSE WHO FIND THE MONUMENT OFFENSIVE AND A REMINDER OF A DARK PAST OF ENSLAVEMENT AND TO BRING WHAT EXPERIENCE I COULD TO DECIDING THIS ISSUE. THAT WILL OF THE PEOPLE CHANGED DRAMATICALLY OVER THE COURSE OF THE BLUE RIBBON COMMISSION. AT FIRST THE OVERWHELMING MAJORITY, BLACK AND WHITE, WAS TO KEEP THE MONUMENT WHERE IT WAS. AS IT BECAME APPARENT THAT MOVING THE MONUMENT WOULD BE VERY EXPENSIVE AND THE LEGAL FEES WOULD BE SUBSTANTIAL THE WILL OF THE PEOPLE BECAME TO LEAVE THE STATUE AND PUT THE MONEY TO BETTER USE, SOMETHING CONCRETE, LITERALLY, AND THAT WILL PREVAILED FOR SEVERAL OF THE MIDDLE MONTHS. BUT GRADUALLY WITH ABOUT A MONTH TO GO THE FACTS OF THE ISSUE BEGAN TO TAKE ROOT AND I REMEMBER TELLING A FRIEND THE DAYS OF THE STATUE ARE NUMBERED AND IT WAS OBVIOUS THE WORK OF THE COMMISSION WAS BEING TAKEN SERIOUSLY BY THE COMMUNITY AND I COULD SEE THIS PROGRESSION BECAUSE I ATTENDED EVERY MEETING.
AS THE WORK SESSION OF TUESDAY, JANUARY 17, CAME CLOSE THE COUNCIL VOTE SEEMED TO STACK UP 2 TO HAVE THE MONUMENT REMAIN AND 2 TO HAVE IT MOVED AND I WOULD BE THE DECIDING VOTE. BOTH SIDES WERE LOCKED IN PLACE WITH NO DESIRE TO COMPROMISE. I COULDN'T VOTE TO KEEP THE MONUMENT IN PLACE BUT I WAS CONCERNED THAT A VOTE TO REMOVE THE MONUMENT WOULD MAKE IT VERY DIFFICULT TO SUCCESSFULLY PRESS FOR A TURN OF THE CITY BUDGET TOWARDS A PEOPLE'S BUDGET AND THE PROTECTION OF NEIGHBORHOODS BECAUSE WHAT I WOULD PROPOSE HAD BEEN VOTED DOWN IN THE PAST, HENCE THE ABSTENTION. AS I SAID THAT TUESDAY EVENING I DIDN'T WANT TO RUSH THIS. I THOUGHT IT BEST THAT THE COMMUNITY GO INTO THIS COMMUNITY DECISION WITH THEIR EYES WIDE OPEN AND WITH ALL THE FACTS. BUT TODAY, WITH THE RESULTS OF THE RECENT BUDGET WORK SESSION AND THE WILL OF THE MAJORITY OF THE COUNCIL TO PRESS FOR APPROPRIATIONS THAT IN THE PAST HAVE BEEN CUT OR POSTPONED, THE COMMUNITY SHOULD KNOW HOW I FEEL SO THIS PARTICULAR PART OF THE ISSUE CAN BE PUT BEHIND US AND THE COMMUNITY CAN COME TOGETHER AND MOVE FORWARD.
SO AT THE NEXT COUNCIL MEETING ON FEBRUARY 6 THE MOTION TO MOVE THE STATUE WILL BE MADE AGAIN AND I WILL SUPPORT THE MOTION WITH A YES VOTE.
IMMEDIATELY UPON THE VOTE BEING RECORDED I WILL MAKE A SEPARATE MOTION TO REQUEST AN ADVISORY OPINION FROM THE VIRGINIA ATTORNEY GENERAL AS TO ANY LEGAL DIFFICULTIES WE SHOULD ANTICIPATE AND FURTHER FOR THE COUNCIL TO ACKNOWLEDGE THAT THIS MATTER SHOULD BECOME A PRIORITY FOR THE CITY MANAGER AND STAFF WHICH MEANS WE CLEAR THE DECKS OF ANY NON ESSENTIAL TASKS WE HAVE PLACED ON THEM SO THEY CAN GIVE THIS THE ATTENTION IT DESERVES.
SPEECH BEFORE COUNCIL, FEBRUARY 6, 2016
BEFORE I START MY PREPARED REMARKS I WOULD LIKE TO ONCE AGAIN THANK THE BLUE RIBBON COMMISSION, 9 CITIZENS WHO VOLUNTEERED FOR THE TASK, AND TO ASSURE THEM WE HAVE ALREADY STARTED WORK ON YOUR OTHER RECOMMENDATIONS AND WILL CONTINUE THAT EFFORT.
TONIGHT WE VOTE ON MOVING THE STATUE OF ROBERT E LEE FROM LEE PARK. FOR SOME IT WILL BE A CONFUSING NIGHT....A NIGHT WHEN A VOTE IS TAKEN SEEMINGLY CONTRARY TO HISTORICAL SCHOLARSHIP FOR SOME ACADEMICS AND PROFESSIONAL HISTORICAL PRESERVATIONISTS, FOR OTHERS IT WILL BE A NIGHT FRAUGHT WITH UNKNOWN BUT NOT UNIMAGINED CONSEQUENCES TO HEAR THEM WAIL AND BLUSTER. A NIGHT, THEY SAY, THEY AND THEIR COUNTRY WILL NEVER RECOVER FROM.
WELL, THEY SELL THE REST OF US SHORT BECAUSE IT WILL ALSO BE A NIGHT OF CELEBRATION OF A GOVERNMENTAL ACTION OF THE PEOPLE, BY THE PEOPLE AND FOR THE PEOPLE, AN ACT OF ACKNOWLEDGEMENT NOT OF THE MAJORITY BUT A STRONG, PATIENT MINORITY - TENS OF THOUSANDS OF OUR NEIGHBORS IN OUR COMMUNITY, THE LARGEST GROUP BY FAR OF IMMIGRANTS IN THE STATE OF VIRGINIA AND THE SURROUNDING COUNTIES WITH AFRICAN AMERICAN ROOTS AND THEIR FRIENDS WHO STAND BY THEM IN THEIR MARCH TO THE SOMETIMES ELUSIVE GOAL OF EQUALITY. AND EVERYONE SHOULD RECOGNIZE THERE ARE MANY DIFFICULT STEPS AHEAD.
I WOULD LIKE TO TAKE THIS OPPORTUNITY TO PUT THIS ACTION IN PERSPECTIVE.
FIRST
FOR THOSE LISTENING OR WATCHING WHO SAY THIS WILL BE THE END OF OUR COUNTRY AS WE KNOW IT. OUR NEIGHBORS AND FRIENDS WHO WANT THIS STATUE MOVED ARE UNITED STATES CITIZENS WHO HAVE BUILT OUR CITIES, PAID TAXES, FOUGHT IN OUR WARS, SERVED ON OUR JURIES. THEY ARE US. AND WE ARE AMERICANS....ALL OF US.
SECOND
FOR THOSE OF YOU ENJOYING THE DARK RECESSES OF THE INTERNET WE ARE NOT VOTING TO DESTROY THE STATUE OR TO BURY IT SO STOP WITH THE ISIS COMPARISONS. THEY MAKE YOU LOOK FOOLISH AND TAINT THE IMPORTANT ARGUMENT OF THOSE WHO SAY LEAVE IT WHERE IT IS BECAUSE IT HAS HISTORICAL AND EDUCATIONAL VALUE.
THIRD
ROBERT E LEE KNEW EXACTLY WHAT HE WAS FIGHTING FOR. IT WAS HIS FREE CHOICE TO TAKE COMMAND. HE LOBBIED FOR IT. HE GOT IT. IN TODAY'S VERNACULAR.....OWN IT. THERE IS A LARGE BODY OF THOUGHT THAT ALL WARS ARE ECONOMIC. HE WAS THE GENERAL OF THE CONFEDERATE ARMY AND THE MISSION OF THAT FEDERAL ARMED FORCE WAS TO PRESERVE THE ECONOMIC LIFEBLOOD OF THE CONFEDERACY, LITERALLY, AND THAT WAS THE ENSLAVEMENT OF HUMAN BEINGS. DECADES AFTER ENGLAND AND FRANCE HAD BOTH BANNED SLAVERY, THE ARMY OF WHICH ROBERT E LEE WAS COMMANDER WAS FIGHTING TO PRESERVE IT. WOULD YOU HAVE US BELIEVE THAT AN EDUCATED MAN WHO ROSE TO BE SUPERINTENDENT OF WEST POINT HAD NO KNOWLEDGE OF THESE HISTORIC AND, FOR HIM, CONTEMPORANEOUS EVENTS? WE HEAR OVER AND OVER THE WAR WAS FOUGHT FOR STATES' RIGHTS BUT THERE IS MORE TO THAT PHRASE. IT WAS FOUGHT FOR STATES' RIGHTS TO ENSLAVE PEOPLE. TO BELIEVE OTHERWISE IS DELUSIONAL.
FOURTH
I'VE HEARD 'IF WE GIVE IN TO 'THEM' ON THIS THERE'S NO TELLING WHERE IT WILL LEAD'. THAT'S POSSIBLE. IF WE ARE NOT CAREFUL IT MAY LEAD TO RESTORING THE VOTE FOR EX FELONS WHO HAVE PAID THEIR PENALTY TO SOCIETY BUT CAN'T YET VOTE, AS IF THEY ARE EXPECTED TO WEAR A SCARLET LETTER AND BE RELEGATED TO SECOND CLASS STATUS FOR THE REST OF THEIR LIVES, TO NOT JOIN THE POLITICAL PROCESS OF OUR COUNTRY AND HAVE TO FIGHT FOR ECONOMIC JUSTICE 'TIL THE DAY THEY DIE. IT MAY LEAD TO PROVIDING PUBLIC MONEY NOT FOR PRISONS AND JAILS WHICH FOR SOME JURISDICTIONS IS A MAJOR ECONOMIC DEVELOPMENT PROJECT BUT TO DIVERSION AND MENTORING PROGRAMS SO YOUNG MEN AND WOMEN HAVE AN ALTERNATIVE TO PRISONS. TO ADEQUATELY FUND COMMUNITY CENTERS NOT AS AN AFTER THOUGHT BUT AS A PRIMARY GOAL OF BUDGETING AND NEIGHBORHOOD PROTECTION.

AND THEN THERE ARE THOSE WHO SAY THIS IS ONLY BEING ADVOCATED FOR BY A FEW MALCONTENTS. SO THE FIRST AMENDMENT ONLY APPLIES IF YOU HAVE OVER, WHAT....7 CITIZENS? 16 CITIZENS? WHAT EXACTLY WOULD YOUR THRESHOLD BE TO EXERCISE YOUR RIGHTS UNDER THE CONSTITUTION? TO THOSE I WOULD SAY YOU HAVEN'T BEEN PAYING ATTENTION. THE BLUE RIBBON COMMISSION OVER ALMOST AN 8 MONTH PERIOD TURNED THE CONVERSATION IN OUR COMMUNITY FROM ONE OF NON INTEREST TO A CONTINUING PROCESS OF ACKNOWLEDGEMENT THAT THE WAY THIS STATUE IS VIEWED BY ONE GROUP IS NOT THE WAY ALL GROUPS VIEW IT. AND THAT IN OUR COUNTRY THE GOVERNMENT IS ONE OF PEOPLE, NOT OBJECTS. THERE IS NOT JUST ONE WAY, OUR WAY, TO HONOR HISTORY PARTICULARLY AT THE EXPENSE OF MANY OF OUR NEIGHBORS, THERE IS NOT JUST ONE WAY TO MAKE A PARK VIBRANT AND A CENTER OF COMMUNITY LIFE.
I'VE LEARNED A LOT ABOUT FREEDOM OF SPEECH OR LACK THEREOF DURING THE LAST FEW MONTHS AND THE PRICE SOME PAY TO EXERCISE A BASIC RIGHT OF FREE SPEECH AND TO PETITION THE GOVERNMENT FOR REDRESS OF A GRIEVANCE WITHOUT FEAR OF INTIMIDATION OR REPERCUSSION. THIS IS A COPY OF JUST ONE OF SCORES OF RACIST COMMENTS SENT TO THE YOUNG MAN ON MY LEFT IN AN ATTEMPT TO INTIMIDATE AND DESTROY.
THESE ARE SO BEREFT OF RATIONAL THINKING AND COHERENT FOCUS THAT THERE CAN BE ONLY ONE DRIVING FORCE BEHIND THEM AND THAT IS RACISM. AND FOR THOSE OF YOU WHO THINK DEATH THREATS WILL KEEP ME FROM DOING MY DUTY AS I SEE IT.......YOU MUST NOT KNOW MY BACKGROUND. I'VE BEEN THRU MUCH WORSE.
OUR CITY HAS WORKED HARD TO INSURE RACE IS NOT THE PIVOT POINT AROUND WHICH COMMUNITY DECISIONS ARE MADE, WHETHER IT'S MUNICIPAL FUNDING, LEGAL JUSTICE, ECONOMIC JUSTICE. I KNOW THE CITIZENS, MY FRIENDS AND NEIGHBORS, TOO WELL, AND WE WILL CONTINUE OUR EFFORTS TO INSURE THAT THE WORDS 'WE HOLD THESE TRUTHS TO BE SELF-EVIDENT, THAT ALL MEN AND WOMEN ARE CREATED EQUAL ....' ARE NOT MERE WORDS UTTERED WHEN IT IS TO OUR POLITICAL ADVANTAGE BUT ARE A WAY OF LIFE.
THESE WORDS AND ABRAHAM LINCOLN'S WORDS I MENTIONED EARLIER UTTERED AT GETTYSBURG ARE ALREADY IN OUR DNA, SO DEEPLY INGRAINED THAT THE MERE HINT OF UNFAIRNESS GETS EVERYBODY RILED UP. IT IS OUR CHALLENGE TO MAKE SURE WE DON'T GET RILED UP AT EACH OTHER AND TO INSTEAD FOCUS ON THOSE THINGS AROUND US THAT PROMPT THIS REACTION.
I AM WELL AWARE THAT THERE HAS BEEN A LAWSUIT THREATENED. I WOULD WELCOME ONE. FOR THE SAKE OF OUR CITY AND OUR STATE THIS MATTER SHOULD BE LITIGATED BY THE COURTS WITHOUT DELAY. WE ARE NOT THE FIRST CITY TO ADDRESS PUBLIC MONUMENTS FROM OUR DISTANT PAST. ALREADY ALEXANDRIA, DANVILLE, RICHMOND, LYNCHBURG AND OTHERS HAVE STRUGGLED WITH A LAW THAT IS STILL NOT SETTLED. PARTICULARLY IN THESE DAYS WE SHOULD ALL STRIVE TO FIND THE COMMUNITY EQUITY GUARANTEED IN THE CONSTITUTION, PROTECTED IN THE BILL OF RIGHTS AND ENFORCED IN OUR LOCAL LAWS THAT WE ALL PREACH.
VINEGAR HILL
A FORGOTTEN NEIGHBORHOOD?
Click here for video of Vinegar Hill Plaque
(description on plaque)
Vinegar Hill - A Forgotten Neighborhood
"Vinegar Hill", one of the city's first neighborhoods was bordered loosely by Preston Avenue, West Main Street, and Fourth Street. It was established by Irish families in the early 1800s and incorporated into Charlottesville in 1835.
First called Random Row, the origin of the name "Vinegar Hill" remains obscure. Ruled by the O'Tooles, the O'Tracys and the O'Donovans, the local tradition has it that National League pitcher Charlie Ferguson - a 4-time 20 game winner in the mid 1880s - was born and raised here.
African - Americans first moved onto the "Hill" after the Civil War. From the 1920s to the early 1960s it was the city's principal black business district and the vibrant center of their "social life".
In 1960, noting "Vinegar Hill's" large number of substandard homes, the voters of Charlottesville decided to redevelop the 20 acre neighborhood. Sadly, because of the poll tax, many of the residents were denied a say in their own future. By March, 1965 one church, 30 businesses, and 158 families - 140 of which were black - had been relocated. Today, "Vinegar Hill" is just a memory.
FREEDOM OF SPEECH
"Congress shall make no law ..... abridging the freedom of speech ...." James Madison, 4th President of The United States and author of the First Amendment to the Constitution.
I have changed two words, to wit: Council shall make no rule abridging the freedom of speech.
On February 16, Charlottesville City Council passed a Council Meeting Procedures and a Matters by the Public Selection Procedure by a vote of 4 - 1. This action has been the subject of much discussion in our community.
SPEEDOS
February 20, 2015 Of the many issues facing Charlottesville perhaps some of the most stubborn to date are the concerns about speeding through our neighborhoods, cutting through neighborhoods to avoid traffic backups on parallel roads, lack of adequately lit cross walks, sidewalk repair, bridge repair, etc. The residents of Lower Rugby Road, Meadowbrook Heights Road, Old Lynchburg Road, Ridge Street, Locust Ave. and many others across the city have waited patiently for safety improvements and repairs (Woolen Mills for 27 years for Franklin Street......yes, I did check that figure) only to be told that basic attention to their streets was just around the corner. (See next story for West Main Street).
Personally, I have tried emails, citing my experience in building and maintaining roads, videos of a 3 year old road (Old Lynchburg Road) already crumbling and damaging cars with concrete islands similar to Park Street, even trying to convince senior city staff of the personal injury liability this negligence is exposing the city to. A new way of addressing this neglect may be here. Paul Reynolds has developed a truly cutting edge system that collects data on the traffic outside his residence on Locust Ave. Instead of my trying to explain click on the next link and hear him talk about it. https://youtu.be/s50SW-OD6Jc
The Emperor's New Clothes
WEST MAIN CONSULTING FEE TO DATE: $1,484,637.20
January 10, 2015 $1,484,637.20 SPENT ON WEST MAIN STREET CONSULTANTS. FOR WHAT? With all the Landscape Architects on staff, in the community and the city enjoying a world class School of Architecture at UVA what information or technique or process has the city gained from bringing in an out of town consultant to work on West Main St. for $1,484,637.20 that we didn't know about before? What would $1,484,637.20 buy? ALMOST 5 CLASSES FOR PRE-K CHILDREN, CASE WORKERS FOR HUMAN RESOURCES DEPARTMENT, SUPPORT FOR A MENTAL HEALTH/SUBSTANCE ABUSE FACILITY FOR WOMEN, A START FOR INITIATING A CHILD CARE PROGRAM FOR WORKING MOTHERS, INCREASING FUNDING FOR THE AGENCY BUDGET REVIEW TEAM (ABRT), ETC., ETC. A critical look at the consultants' work follows.
Page numbers and almost all comments are from West Main Street Action Plan, December 18, 2014, most of which is still in play.
First the good stuff. TREES. Yes, but we already knew this. There is really no downside to trees. If a mature tree has to come down then we can replace it with 5 new, young trees for every older one lost.
Now for the OTHER stuff! 4 short videos on You Tube to set up the discussion
West Main West https://youtu.be/ZXDemXlYAbI

West Main East https://youtu.be/ebwomgkHp4c

Rail Road Clearance 50'? https://youtu.be/H6agtRmwIJU

West Main St. Bike Alternative https://youtu.be/41ERR4cjCMk
Following quotes from the West Main Street Action Plan: (Did I mention it has cost $1,484,637.20 so far?)
page 17, 'The design for West Main Street will encourage cars to move more slowly.' If cars move more slowly emergency vehicles, fire trucks, police vehicles, buses also move more slowly - a fact that was denied by the consultants. West Main St. is the emergency route to UVA Hospital, and the quickest route for fire responders. This fact is the most important parameter, followed by business, church, pedestrian concerns.
page 19, 'West Main Street will become the "front door" for adjacent neighborhoods.....through the provision of improved pedestrian and vehicular connections between West Main and those neighborhoods'. This is usually called 'cut through traffic'. This was denied by the consultants as well despite being in their plan.
page 12, 'All modes are provided adequate space for safe operations and circulation....' and 'slower travel speeds reduce potential for severe injuries'. This despite assurances to the contrary that emergency vehicles wouldn't be slowed down.
page 26, 'The diversity of West Main Street is its "charm", and the entire plan should encourage this diversity of character along the entire street'. From The Graduate to William Taylor Plaza and down to City Walk there are now, under construction or about to start 16 hotels, dorms, rental apartment towers, condos or detached dwellings. And there are attempts to gather multiple lots for more. Where is the diversity? West Main has become HOTEL ALLEY. The bikers would be much better off advocating for a slower pace in the density explosion (automobiles) this development will cause which would result in a safer, more enjoyable biking experience on West Main St.
page 35, Chicanes are for the most part an urban planning fad (the 2004 West Main St. study calls them 'bump outs') that make turning difficult for delivery vehicles, damages vehicles as currently configured (see Park St. bump outs) and saves maybe 5 or 6 paces when crossing an old urban street such as West Main St. They are not appropriate for West Main except as 'make work' or to plump up a consultant study.
page 38, 'The Bridge', presumably the Drewary J. Brown Bridge, is shown with people on swings. What kind of professional expertise is this? The Ridge-McIntire Rd. Intersection, which works as well or better than any other major intersection in town complete with slip lanes has been redesigned without slip lanes and now proposes to move the Sakajawea statue, a major work of art that honors the critical role that a remarkable Lemhi Shoshone woman played in the Lewis and Clark Expedition. This statue in that intersection has become an iconic monument at the city's most important intersection.
page 42, 'no compaction zone'. How would trees stay in the ground during a strong wind? On a somewhat related issue the permeable pavements or parking lots that are in place around town are a hazard because with traffic they become uneven and compacted and a menace to pedestrians.
page 51, 'Efficiently managed, one on-street parking space is worth $300,000 in annual retail sales to nearby adjacent businesses' and yet the consultant study proposes to remove 33 spaces. In their parking addendum they state there are approximately 5,000 parking spaces within 600 ft. of West Main St. This includes neighborhood parking, private lots (I wonder what the householders and owners would think of that), University spaces which are already taken for the hospital. The most charitable word I can use for this is ........ well, I won't use it. Maybe preposterous. This is planning for the past at worst and disingenuous planning for the future at best.
page 60, 'New, independent municipal (parking) facility is not needed.....adequate supply exists'. This whimsical statement is made not on the basis of any auto traffic projection. This is planning for the present. West Main St. is in the throes of a speculative binge and visitors to the street are already spilling into adjacent neighborhoods. Inaccurate and not helpful.
During the consultant output/public input period maybe 6 - 8 months ago a lovely, color rendering of West Main was brought forth to show the public what a beautiful street this could be. The problem was it was out of scale and was meant to sell a concept that couldn't work. For a professional consultant who makes his living with renderings and scale determinations on a regular basis this was reprehensible, inaccurate and nothing short of trickery.
So at virtually the last minute after a year and a half of presentation, citizen change, presentation, citizen change, etc. the President of The University over the signature of her CEO, Tom Hogan, sent the mayor and council a letter that changed everything. Included with the letter was a study done by the university's own consultant. As soon as I can figure out how to put it into this web site I will. The documents basically called into question virtually all of the city consultant's work.
The redesign of West Main St. is basically an attempt to shoe horn two bike lanes into a space that, with business, pedestrian, emergency vehicle use, simply will not accommodate them. One of the goals in the West Main Street Action Plan is 'something for everybody'. We should leave West Main St. as it is and concentrate on promoting bike travel on Cherry Avenue and Preston Ave. Most of the infrastructure has been done on Preston and on Rose Hill Drive. Preston Avenue now has more bike travel of different kinds (for work, for family, for social biking) than does West Main and it is much safer. I know some will not agree but it is important to have all these issues on the table. Biking is a more enjoyable experience on a beautiful boulevard. https://youtu.be/41ERR4cjCMk
So, this is what we've gotten for $1,484,637.20
January 2, 2016, BELMONT BRIDGE
UPDATE: JANUARY 4, 2015. At this evening's City Council meeting I attempted to pull back the published RFP to correct numerous mistakes not only in the RFP itself but in the supporting documents as well but did not have the support to prevail. The RFP stated '....these criteria have been endorsed by the Charlottesville City Council.' I do not endorse the criteria and I entered that statement into the public record. So we will work our way through the process, waste taxpayer money, staff time and citizen effort and eventually fix the mistakes we should have fixed Monday. 'One lane in, one lane out' will never stand.
Relevant documents: www.charlottesville.org; Search 'Belmont Bridge RFP' for the Request for Proposal which is out for response from private design firms.
www.charlottesville.org; On left side click on 2014 Agendas with background, on that page scroll or go to Belmont Bridge Resolution for decision on 2 types of bridge or the tunnel.
www.charlottesville.org; click on 2014, July 7, Agenda with background for establishment of Belmont Bridge Steering Committee.
NOW FOR THE BELMONT BRIDGE RFP
I was going to put my conclusions at the end of this piece but why delay the point of this?
First of all, the wording of the RFP itself makes it abundantly clear that this is an original bridge design. We are not bound by past decisions. We are starting from scratch. There is no need to pay a consultant to tell us what we should have. We are smart enough to figure that out. If we place this discussion in the hands of a consultant we will change it anyway. We have changed every consultant report I have ever seen and are doing this on West Main St.
The RFP for the replacement of the Belmont Bridge should be pulled immediately. It is premature and flawed in fundamental components:
It is incomplete; the roads and turn offs at the south end of the bridge and the eventual parking along Avon St. and the loss of a minimum of 51 parking spaces are not even considered.
It is misleading; the schematic below is nothing similar to what the final design will be; the city council should be the body that decides in general terms what the citizens want in their bridge; how many lanes, what types of lanes, the layout of approaches to the bridge; what kind of future add-ons should be incorporated, etc.
It is money and time wasted for all concerned, citizens of Charlottesville, members of local boards, committees and commissions, city staff not to mention the loss of time and money to any professional firm that would use this RFP to guide them in submitting a proposal. Prior to publication the RFP was reviewed by the Steering Committee but not the City Council. Why was it not reviewed by the Council before it went out to the professional community? We will have two new members on Council making important funding decisions who had nothing to do with the original discussion a year and a half ago.
The discussion and decision point eighteen months ago was among 3 alternatives, an enhanced bridge, a truss bridge and a tunnel. I favored repairing the bridge but was not provided timely information by the past Director of Neighborhood Development Services in sufficient time to untangle VDOT's role in partially repairing bridges so as a compromise I voted for the enhanced bridge. The schematic (below) was meant as a place maker drawing and has nothing to do with a final design on basic engineering principles if not function. If this were meant to be a final drawing why was this RFP published in the first place? We would just pick up where we left off a year and a half ago. 17 community meetings dedicated to design? This is a brand new process.
Time is of the essence for pulling this back. The professional firms will be spending most of their time and a great deal of money between the Jan 4 City Council meeting and the deadline of Jan 22 working on their proposals. If this council delays and NDS goes ahead and permits this RFP to stand and awards a contract for services we will then be past the competitive process for municipal work and into the 'changes and additions' process which anyone with a passing knowledge of construction contracting knows drives up the cost.
What provisions have been considered to replace the 51 parking spaces under the current bridge that will be lost if the bridge is shortened?
Bridges and roads are not designed and built for present day conditions. They are built for projected usage decades into the future. One lane in and one lane out over the Belmont Bridge?.....when the Wegman's Shopping Center has just started?......when East Water Street from City Walk hasn't even been opened yet?.....when public housing redevelopment a block away is right in front of us?.....when the public housing redevelopment and the entire SIA will be choked with cut thru traffic?......when West Water Street has one major development imminent (Market Plaza) and another on the verge (across from Holsinger)? We have no idea how these projects will effect traffic. All we know is that it will be dramatic and that before their impact is felt this bridge already, with two lanes in and two lanes out, is a chokepoint. One lane in and one lane out over Belmont Bridge?
How much money can the city dedicate to this project? Why has there been no budget considered? Is this why the money for bridge repair and the majority of the sidewalk repair money has not gone to these critical infrastructure needs and instead been diverted into the Capital Improvement Projects Contingency Fund for the past few years - to beef up a fund that senior staff knows is deficient given our CIP needs?
If this RFP is allowed to stand with the certain knowledge that the RFP does not truly represent the nature and extent of what the city needs it will be a costly mistake in time and money not just for the professional firms preparing a response but for the city taxpayer.
Belmont Bridge Schematic, June 2014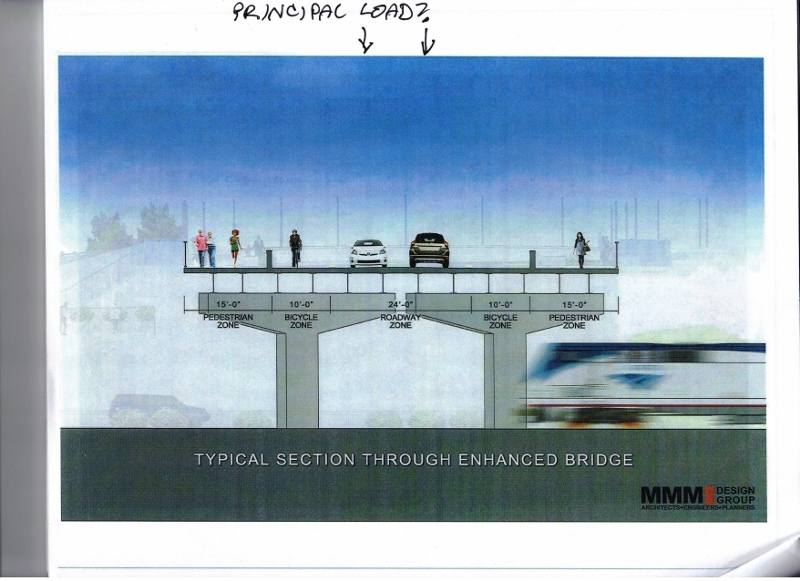 How many lanes does the current Belmont Bridge have? Click Here For Lane Count
In case you lost count let's try it from the other end. Click here to verify number of lanes
What happens if you build one lane in, one lane out? Click Here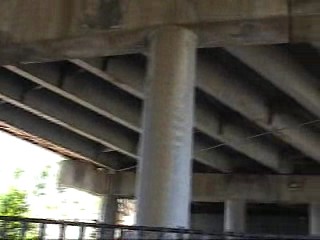 June 15, 2014 To repair or not repair, that is the question. Whether 'tis nobler in the mind to suffer the lack of relevant facts or to take a video camera and by filming to set them before the community. I think I'll just post a short video of why it's obvious Belmont Bridge can be repaired at a reasonable cost even with bike and pedestrian enhancements. And if we can turn the remainder of the Commonwealth Transportation Board grant towards repair of the other 6 'structurally deficient' bridges we could make a huge difference in our infrastructure maintenance. The city has not been given all the facts so CLICK HERE and see for yourself.
Ever see a human fly? Check out the poster boy for worker safety working on the UVA student dormitory on West Main Street. I guess somebody ran out of scaffolding or perhaps he drew the short straw for who would risk life and limb (or bottom line) for the company. CLICK HERE for the video. He's about 6 stories up by the way.